Unlock Powerful Forex Signals with the RSI Reversal Alert Indicator for MT4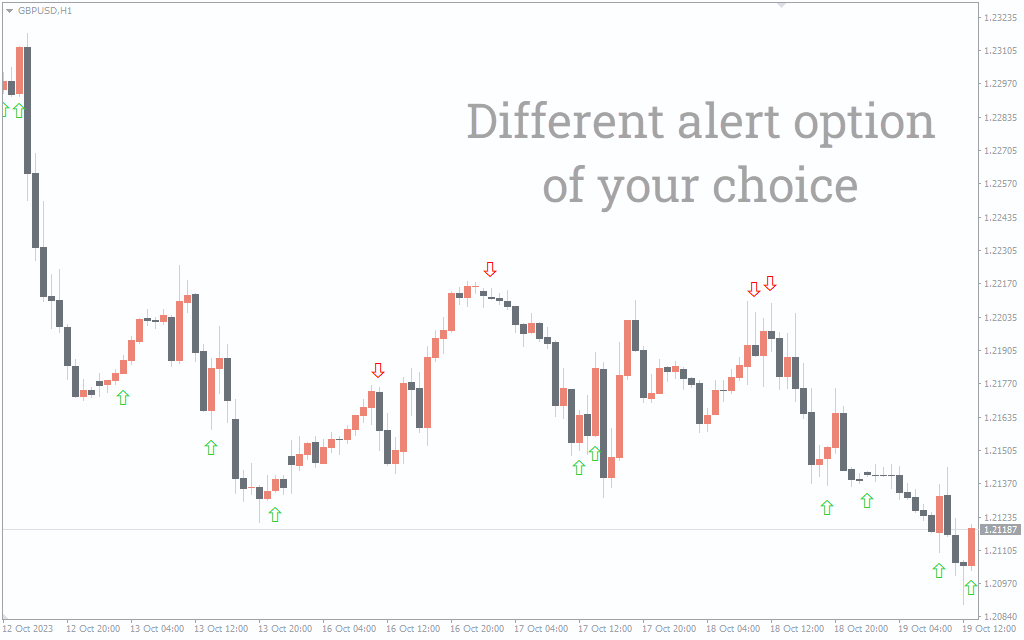 Unlock a new dimension of trading accuracy using the RSI Reversal Alert Indicator for MT4. With tailored alerts and straightforward signals, this tool is designed to spot potential market turns with precision.
Introduction to the RSI Reversal Alert Indicator
The RSI Reversal Alert Indicator for MT4 is an enhanced custom tool, geared to provide traders with arrows and alerts whenever the Relative Strength Index (RSI) ventures into overbought or oversold territories. Given its prowess in pinpointing probable market reversals, it's no wonder it's a favorite among forex enthusiasts.
Maximizing the RSI Reversal Alert Indicator

:

A Step-by-Step Guide
After integrating this indicator onto your chart, arrows paired with warning alerts appear whenever RSI ventures into critical zones. The color-coding is simple:
Green arrows

signify oversold conditions

.

Red arrows

depict overbought scenarios

.

Alerts come in various forms

,

catering to your preference

:

pop-up notifications

,

email

,

or even SMS

.
How to Capitalize on the Signals

:
Should the RSI exceed 70 and a red arrow alert is displayed, anticipate a potential price decline. Here's a strategy: Initiate a short trade, placing your stop loss above the preceding peak. Design your take profit point based on your desired risk-reward ratio.
Contrarily, if the RSI falls below 30, and you're greeted by a green arrow, the market might be gearing up for an upswing. Strategy: Go long, setting your stop loss at the most recent trough. Again, your take profit should align with your risk-reward preference.
Customizable Settings for the RSI Reversal Alert Indicator

:
RSI period

:

Input desired value

.

RSI price

:

Define your preference

.

Level Os

(

Oversold

):

Set a threshold

.

Level Ob

(

Overbought

):

Determine a cap

.

Arrow size

:

Adjust to your liking

.

Alert Activation

:

Choose between 'true'

(trên)

or 'false'

(

off

).

Alert Notifications

:

Personalize your alert modes

,

from messages to sounds

,

ensuring you never miss a potential trading opportunity

.
Conclusion

:
The RSI Reversal Alert Indicator is a trader's companion, highlighting oversold or overbought market conditions with distinct arrows. It's an indispensable tool for those looking to enter trades with an added edge.